You can count on our expert staff at Natural Smiles Dentistry to take the time to explain your treatment options and to help you to chart a treatment course that results in the best oral health possible for a beautiful, natural-looking smile. You will have a smile that is sure to impress everyone, but most importantly, is sure to impress you!
Zoom!® Whitening

Featured on ABC's Extreme Makeover, Zoom!® is a quick and painless whitening process that lightens tooth discoloration with a simple treatment. Though purely cosmetic, the Zoom!® whitening procedure improves more than your teeth. A brighter smile can boost confidence and give you a more youthful appearance.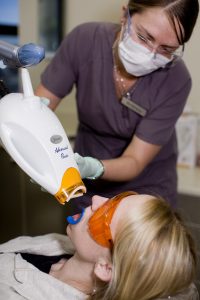 Our Salt Lake City dental staff is also trained in the most effective techniques and custom whitening tray fabrication for home whitening. This technique is controlled by the patient and can be effective in as few as six days of application. We use a combination of several different gels, and will help you select the best one for your specific needs and condition.
For a more permanent bright and beautiful smile, you may want to consider Porcelain Veneers. These dental veneers are custom-designed shells of tooth-like material placed over existing teeth to cover a variety of dental problems. One of the most comprehensive cosmetic dentistry solutions, veneers are the answer for people with worn enamel, chips, discoloration, or uneven teeth. Using the latest translucent ceramic, modern dental veneers provide a more natural look while creating a brighter, more shapely smile.
Give us a call!
If you have any questions about teeth whitening in Salt Lake City, we would love to speak with you and help you take years off your smile and boost your confidence. Contact your Salt Lake City dentist, Dr. Brickey at Natural Smiles Dentistry today by calling (801) 997-6655 or schedule online!