Notice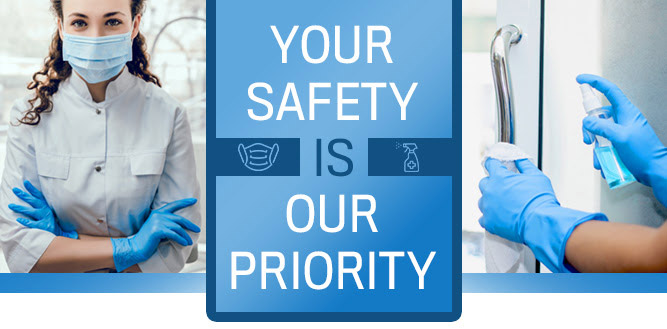 We hope this message finds you and yours healthy during these challenging times.
Officials have notified us that it's safe to reopen. We have implemented the following safety measures as mandated by the state and in accordance with best health practices from the U.S. Centers for Disease Control and Prevention (CDC).
We will be resuming regular business hours starting June 1st. With the increased measures we ask that you commit to the time we have reserved for you and to arrive on time to complete treatment in a timely manner. Some of the changes you will see and that we request upon arrival are below. Please read before you come.
NEW SAFETY MEASURES
Treatment rooms and most equipment are covered with plastic coverings.
We have designated a roving sanitization specialist to continually clean all high-touch areas in the facility.
We are conducting paperless pre-visit screenings for all patients with upcoming appointments.
Our team is 'up-to-speed' on COVID-19 symptoms and utilize recommended Personal Protective Equipment (PPE).
Our waiting room is closed to help ensure patients maintain a safe social distance. Please arrive 10-minutes early to allow for temperature screening prior to check-in.
Call or text our main line to inform the front desk of your arrival and we will guide you in from there.
Only patients, or patients plus one critical caregiver, are allowed into an appointment.
We require that you wear a face-covering at all times while in our office. One will be available for purchase if you forget to bring one.
We have implemented digital tools for check-in as well as contactless payment methods to reduce germ spread via clipboards, pens, and money.
Any patients or team member who have come in contact with or have been diagnosed with COVID-19 must have an all-clear notification from their physician before entering our facility.
We ask that all patients use the hand sanitizer provided at the front door upon entering. It will also be available in other areas of the office.
As always, our main concern is the safety and well-being of our patients and team while under the excellent care you are familiar with at Natural Smiles Dentistry. We have a few New Team Members we are excited for you to meet. Welcome back NSD!
If you have any questions or concerns, contact us at any time. To request an appointment, please click below.
We look forward to seeing you soon!
Dr Thomas Brickey and Dr Laura Provine